Heading out on a caravan adventure is an exciting experience, but it can quickly become a nightmare if you don't have the right appliances on board. Choosing the best appliances for your caravan can be a daunting task, with so many options available on the market. From refrigerators to ovens, microwaves to coffee makers, the choices are endless. But fear not, because we've put together the ultimate guide to help you choose the best appliances for your caravan. With our expert advice, you'll be able to select appliances that are not only practical and functional but also stylish and compact. So, whether you're planning a weekend getaway or a long-term trip, our guide will help you make informed decisions about which appliances to take with you on your caravan adventure. So, sit back, relax, and let us guide you through the process of choosing the best appliances for your caravan.
Caravanning no longer has to include difficult days of fending some beef jerky from the pantry. Kitchen appliances, cookers, refrigerators, TVs, and other electrical gadgets can be brought along on vacation to make it more enjoyable.
But watch out! In caravans and tents, electricity must be handled with great care. So here are 15 tips on caravan electricals and caravan accessories that can be used on your journey.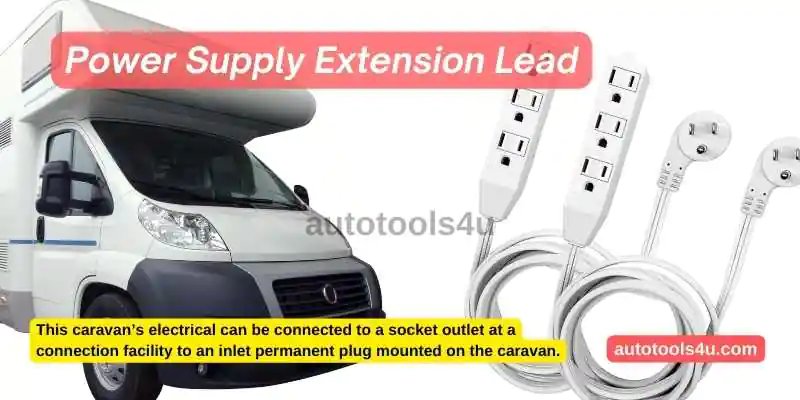 A Power supply extension lead
This caravan's electrical can be connected to a socket outlet at a connection facility to an inlet permanent plug mounted on the caravan. This provides electricity to the caravans on site. The extension lead for the power supply has to be one consistent length and rated at 15 amps. The length of the lead ought to be around 3 to 15 meters. At the connection facility, the wire must be attached to the tie bar. Make sure the wire does not obstruct access or impede vehicle tracks.
Safety Note
Any caravan electrical wires that are worn out or damaged should be replaced. Make sure the wires are completely uncoiled. Only one lead should be attached to each socket outlet. Each inlet socket on the van should have its lead.
A big no to adapters
Though adapters are easy and convenient to use, this particular appliance is not caravan electric safe. Power cables must not be connected to the on-site connection outlet using double adaptors. Check for a safety switch on the socket outlet while connecting to the caravan park site amenity. Better safe than sorry, it's always better to go the extra mile when safety is concerned.
Safety Switch
To demonstrate that the caravan fulfills the safety regulations, a caravan test certificate should be affixed to it. Look for this switch on the power outlet while connecting to the caravan park site amenity. If the site does not provide this essential caravan electrical, it is advised that the tents be powered by a portable power outlet with a safety switch.
Powerboard
A powerboard is a caravan electrical that can be utilized if several devices need to be plugged into the tent. Put the powerboard in a clean, dry, safe location on firm support. If at all feasible, turn off the power at nightfall or while you are not using it.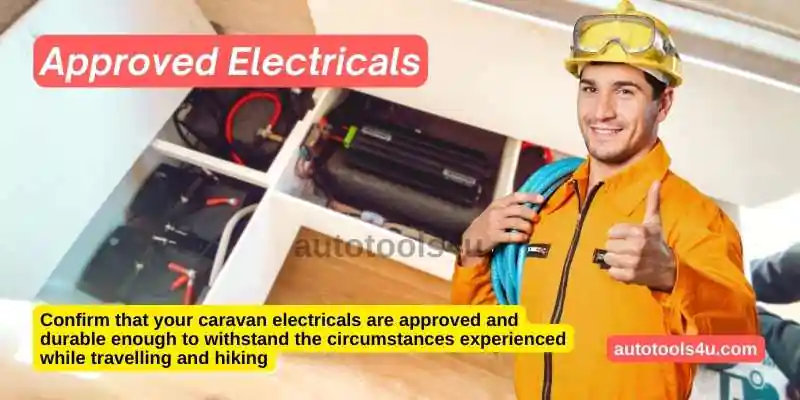 Approved Electricals
Hikers often are exposed to additional dangers. The combination of electricity with wet surfaces can be dangerous. Confirm that your caravan electricals are approved and durable enough to withstand the circumstances experienced while travelling and hiking. Light fixtures must be made of a long-lasting, weather-resistant material with breakage prevention. Get extensions and appliance cords out of the way. In a tent, wires that run around can be harmful, especially for children.
Ensure that you have a Fire Extinguisher on Hand.
When caravaning, we often tend to camp out sometimes or be adventurous, and thus it's wise to be equipped. Fire extinguishers are a useful caravan accessory and safety too and if you are using electricity, they're a necessity. It's super unsafe to have a fire in your caravan. Possessing this equipment can assist you in containing the situation and preventing harm or damage. Keep in mind to inspect and replace fire extinguishers according to the manufacturer's instructions. It's easy to forget the upkeep of this safety equipment because you won't require it very often.
Mirrors for towing
This is an important caravan accessory that enables you to have a clear view of your caravan without having to continuously turn back. As a result, practically all towing vehicles require supplementary towing mirrors. They're frequently clamped, suctioned, or strapped to the wing mirrors. Some are better suited to specific types of wing mirrors than others.
Water Carriers
Water is a necessity, and so is this caravan accessory. Fill an Aquaroll or equivalent container with fresh water, take it to your holiday site, and connect it to your van's water inlet point, to have water during your trip. Ensure you have a water pump and line to connect the carrier to the water intake on your vehicle.
A Gas Can
A propane gas can of around 6 to 7 kg will be a handy caravan accessory to have on a trip. It is advisable to purchase your first bottle on a 'refill agreement,' and make use of it on an exchange basis. Alternatives that can be refilled are also available.
Extra Batteries
This caravan accessory is widely used when camping in a locality with no electricity available. You may use this to charge your 12V devices. It isn't usually included with new caravans. There are a variety of styles and sizes available, as well as a range of pricing. If you're going for a true camping holiday with no electricity facilities, it's recommended to have these batteries on hand in case of emergencies.
Disinfectants for the lavatory
You can use a variety of solutions and powders to decrease any stench from your caravan. These compounds are mainly green or blue. You may also add a scented flush additive to your flush tank to clear any stink and to help break down dirty matters.
First Aid Kit
Be sure to carry a basic or customized first aid kit on your trips. Some important medical resources to carry are band-aids, pain relievers, antiseptics, wipes, etc. Some sun cream will help as well!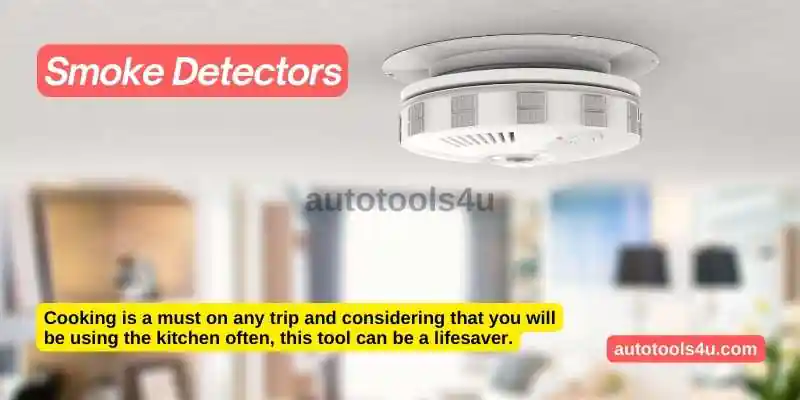 Smoke Detectors
Cooking is a must on any trip and considering that you will be using the kitchen often, this tool can be a lifesaver.
Steps for a caravan
A strong and sturdy step, either made of plastic or metal, makes stepping in and out of the caravan easier.
Conclusion:
Let's face it: where would we be if we didn't have our appliances? Who wants to be pushed out of their comfort zones during a holiday? Whether we're at home or caravanning the world, everything is conceivable, from cleaning your clothes to preparing food. Though you will find more than these 15 caravan accessories or caravan electricals that suit your fancy, we recommend starting your caravan tour with these basic tools and safety tips in mind.